Automated translation

Automated translation solution for names TerraLexion has been created within the Interreg Estonia-Latvia programme in cooperation with the Latvian cartography and GIS services provider SIA "Jāņa sēta".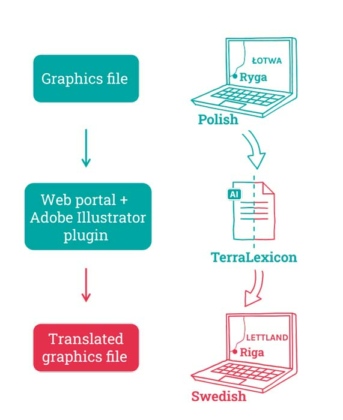 The advantage of TerraLexicon is that the original names are replaced with the translated ones directly in the graphics file, significantly reducing the time needed for editing.
The source for the translations is the open knowledge base and data portal Wikidata.
The translation is made through the TerraLexicon portal. The program Adobe Illustrator is required to use the service. The names from your graphicks file are transferred to the translation environment and then back to the file via Adobe Illustrator plug-in, available for download in the TerraLexicon portal. Your file is not moved out of your computer, which ensures that no one else has access to the file.
TerraLexicon does not guarantee 100% translation success rate. However, you will always be informed about the exact number of translations available for your file, and you will be able to make edits before receiving the updated graphic file.
The price list is available on TerraLexicon website.

This website reflects the views of the author. The managing authority of the programme is not liable for how this information may be used.