15 years of Regio's Garmin maps
The earliest versions of maps based on official Garmin technology were published by Regio in 2008. Maps produced without navigation guidance, using third-party software, had already been created in Estonia, but the first proper Estonian data reached Garmin's Navigator Europe through the Navteq company in 2008, and even those were sourced from Regio.
Why are separate navigation devices even needed when we have phones?
Questions have long been asked as to whether we need dedicated GPS navigation devices or handheld devices like those made by Garmin when we already have smartphones. The answer's yes, for a number of reasons:
A specialized device is always better than a universal one.
Navigation devices don't require constant online data exchange, allowing for faster route calculations and recalculations, especially in areas with poor or limited network coverage (which still exist in Estonia and many other places).
Moreover, constant map updates abroad can eat up your data volume and leave you with big bills.
By using a separate device for navigation, you don't have to drain your smartphone's battery, leaving it available for other activities such as making calls, listening to music, etc.
When hiking, off-roading, or operating in challenging conditions, the durability of the device becomes important (specialized navigation devices are available), as well as the ability to use reliable topographic maps. There are models of devices tailored to the needs of motorcyclists, truck drivers, RV enthusiasts, and hunters.
The Garmin maps issued by Regio have advantages over the Navigator Europe or other maps from different manufacturers.
In terms of their detail and the speed at which they're updated, Regio's Estonian road maps are second to none. New versions of all our Estonian maps are released at least twice a year. While the quality of Garmin's own maps has improved over time, they don't receive updates as quickly. Additionally, they do not offer the same level of detail as Regio's product.
Regio's Estonian road map on a MicroSD memory card designed for Garmin GPS devices includes the following:
Streets and roads
Villages, towns, cities, and other settled areas
Place names
Addresses
Land cover
Buildings
Points of interest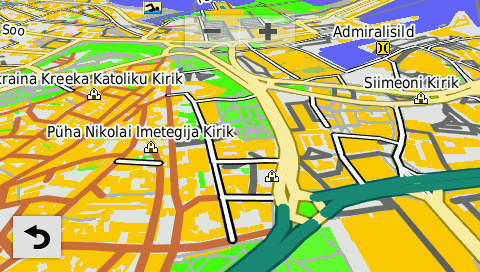 Speed limit information is also included, except for the common limits of 50 km/h in settlements and 90 km/h outside settlements.
The address search functionality works in all Estonian settlements that have named streets and building numbers.
Houses with numeric addresses in small villages and farm names are also searchable in Garmin devices under the "Points of Interest" category.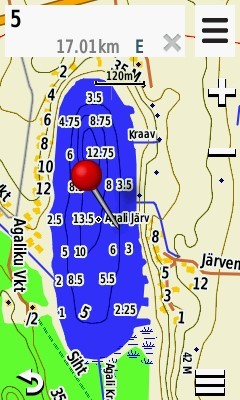 Regio's topographic map of Estonia has all of the information included on the road map plus elevation contours, relief shading and Transport Administration details about navigable inland waters and depths of the coastal sea. As the latest update, data from the Environmental Investment Centre's project for digitizing historical bathymetric maps of approximately 200 small lakes in Estonia has been included. These depth map data cover different time periods (1908-2019) and have been primarily digitized from paper sources.
Furthermore, the depths of 10 lakes measured in 2019 by the Ecology Centre of Tallinn University have been added: Endla, Kooru, Pühajärv, Rõuge Suurjärv, Suurlaht, Tõhela, Uljaste, Viitna Pikkjärv, Ähijärv, Änru Sinijärv.
Note: The depths given for bodies of water and the Transport Administration data are informative and illustrative and don't meet the requirements for marine navigation. They're updated once a year and displayed in a reduced format on GPS device screens. As such, neither the Transport Administration nor Regio can be held liable for their use. For marine navigation, we recommend using official nautical charts.
Precise data on the Baltic States
Regio's handy map of the Baltic States (Estonia, Latvia, and Lithuania) includes:
Streets and roads
Villages, towns, cities, and other settled areas
Place names
Addresses
Land cover
Buildings
Points of interest (i.e., for sightseeing)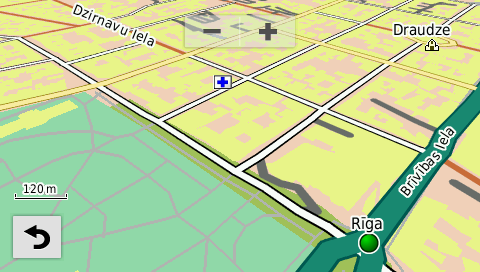 The Regio Baltic database contains over 347,000 km of roads and approximately 2.4 million addresses, including rural addresses. Speed limit information is also included, except for the common limits of 50 km/h in settlements and 90 km/h outside settlements.
Maps are available on SD cards
These maps are currently only sold on MicroSD cards. In the early days, we also produced a Garmin MapSource version, which could be used on computers, and maps could be saved to the memory of navigation devices. Unfortunately, after MapSource was removed from Garmin's product range, this is no longer possible. It has been partially replaced by the free software called BaseCamp. Using BaseCamp you can also display a device-based map on a computer and perform a variety of actions involving stops, tracks, routes and other information.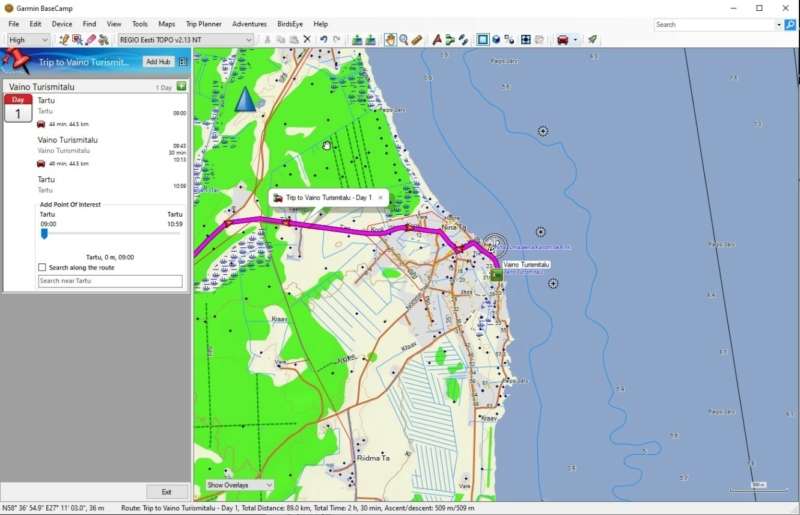 Improving data with your help
If you spot a mistake, flag it up!
Since errors still find their way into maps, let us know if you find one by e-mailing kaardid@regio.ee. That way we can fix them straight away for the next update. Of course, you don't need to buy a new SD card for every update: you can just buy the update files and copy them to your memory card, overwriting the previous files.
Additionally, Regio offers additional user layers like forest parcels or cadastral units. Custom layers required by clients can be produced on agreement as well.

Enjoy using Regio's maps!