Regio's new Estonian Road Atlas marks 25 years since its original publication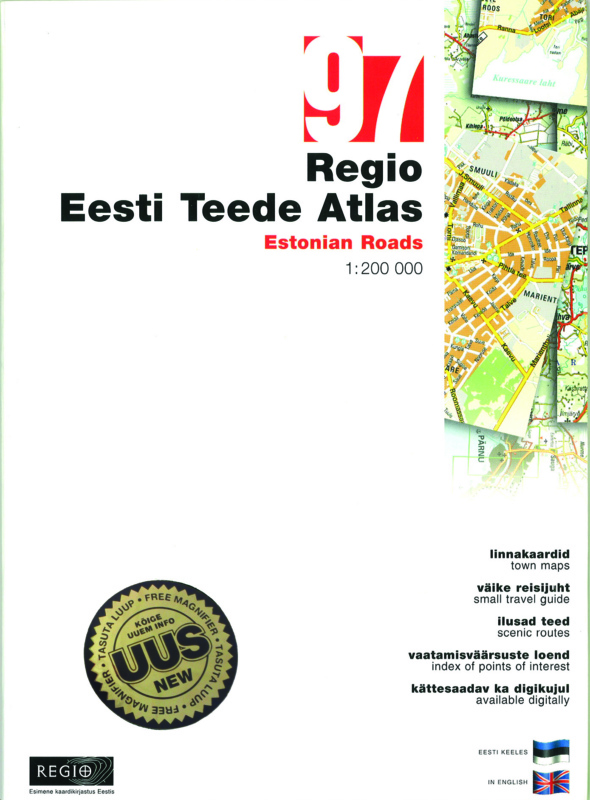 Regio's recently released Estonian Road Atlas is like a mid-term review of life in the country. Printed atlases still very much have a place alongside digital versions. Apart from anything else, Regio's road atlases never run out of battery and aren't dependent on mobile coverage! They're very handy for making travel plans at home, and for the curious they're great fun to flip through.
Regio's first Estonian Road Atlas was published in 1997
Regio's first accurately scaled (1:200,000) Estonian road atlas was published exactly 25 years ago in 1997. Prior to that, we'd spent years building up our database, and the atlas was the first to be produced on the basis of digital data in the Baltic States. Its publication – with a glossy white cover and modern cover design – set a milestone in Estonian cartography. It also included a modest travel guide to the country and a list of sights in both Estonian and English. And since the atlas contained so much information (maximising the possibilities of that particular scale), it also came with a magnifying glass. Prized for its accuracy, the original print-run quickly sold out, leading to a second edition: this time in larger format (A4), spiral-bound and at a scale of 1:150,000. Regio began releasing its CD atlases at around this time as well, initially in cooperation with Telemedia. Cutting-edge for the time, these were the forerunner to today's online maps. The last CD atlas was published in 2007.
Yellow has been the signature colour of all Regio's map products since 2011
Our third road atlas was released in 1999, this time with an ochre-yellow cover. At first we thought we'd give each new edition its own distinctive colour, to set it apart, but the cover was a big hit, so yellow was here to stay! It's been the signature colour of all Regio's map products since 2011. And given how many road atlases we've published over the years, we'd soon have run out of other colours to choose from!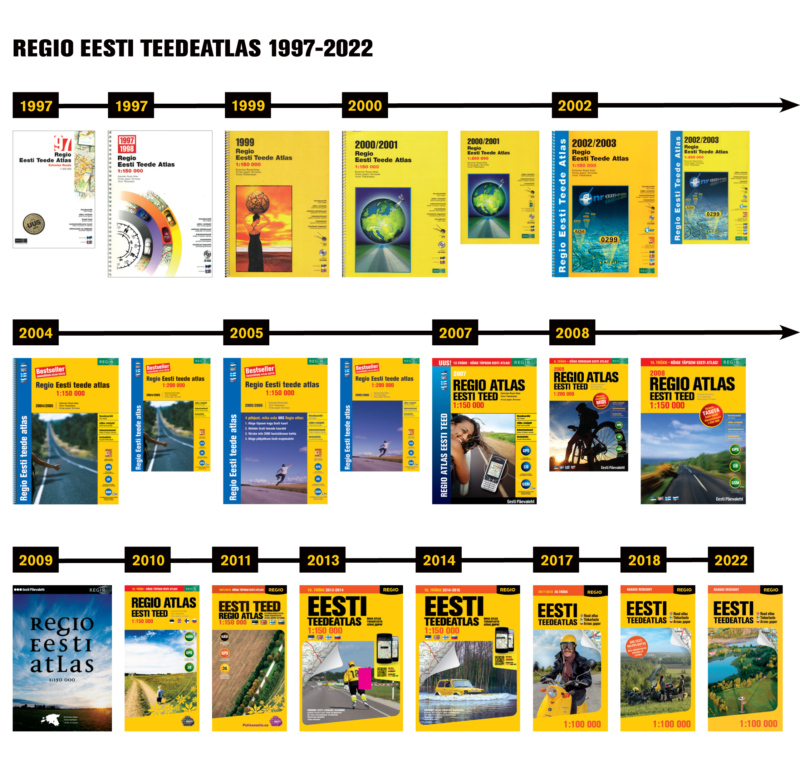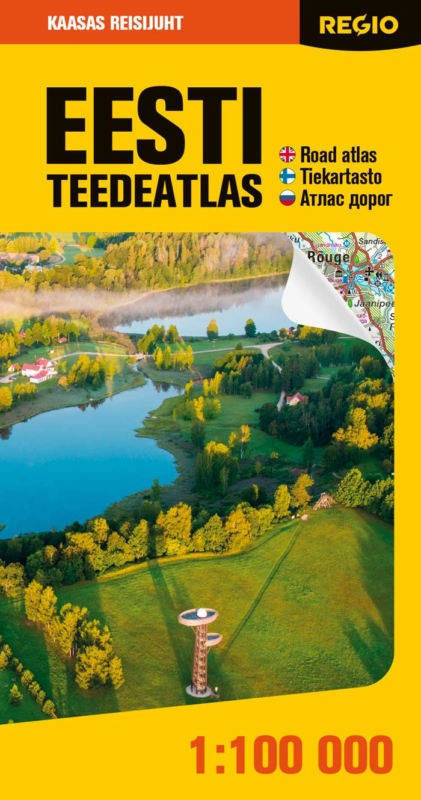 The scale 1:100 000 makes the maps easy to read and use
Over the last quarter of a century there have been 22 editions of our Estonian Road Atlas. Six at a scale of 1:200,000; 13 at a scale of 1:150,000; and our three most recent ones at a scale of 1:100,000. The map part has now been folded in half and the index is separate. We've received a lot of feedback about the format of the atlas, with opinions split right down the middle. Half prefer the spiral-bound versions, others the folded atlas with the greater scope. Since most paper atlas users are older people, we've favoured the larger 1:100,000 scale for our most recent maps, as it makes the details contained in them easier to read.
Regio Road atlases lay much stress on practical travel information and contains information of over 5000 points of interest
That's what Regio's Estonian Road Atlas has been characterised by over the years: the large amount of information its makers have sought to offer, including about sights and tourism. Comparing the editions reveals how much life has changed in Estonia. Gravel roads have been sealed, new highways have appeared, cities have expanded beyond their borders and there are more protected areas. Even the nature and choice of the signs used have changed a great deal. Post offices are no longer marked in the latest edition, but you will find electric car charging points. Compared to earlier editions there's a lot more information about active recreation as well: adventure parks, motorsports venues, surfing beaches, theme parks and more.
Every new edition is thoroughly revised and updated
The Regio database from which our atlases are produced is constantly updated. The changes are more noticeable the longer it is between editions. Some years have more of an impact than others: for example, administrative reforms in 2017 not only introduced new county and municipal borders, but around two-dozen new place names.