Description
The printed sheets of the Estonian Basic Map in scale 1:20 000 have almost nationwide coverage. The producer of these maps is the national Land Board.
This series of map sheets has the widest coverage of topographic data in Estonia on such an accurate scale.
The map sheets can be purchased from the Land Board Archive.
Cartogram with  the distribution of the map sheets with the year of publication can be found here.
The distribution of the map sheets can also be viewed on Land Boards Map application.
In the 'Map sheet indexes' of the 'Map application thematic layers panel'
select '1:20 000'.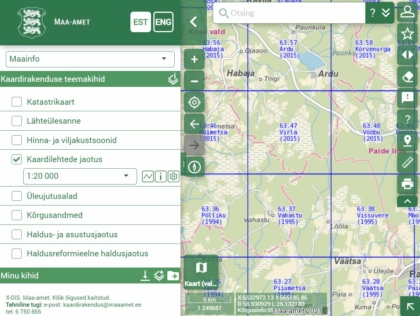 Contact
Phone: 665 0707
Aaddress: Mustamäe tee 51, 10621 Tallinn
E-mail:  kartograafiaarhiiv@maaamet.ee